Next week, the Business Area of Vilanova i la Geltrú City Council, in collaboration with Neàpolis, is launching the autumn training cycle, with five free practical trainings for workers and small business owners. The courses that make up the Autumn Cycle want to provide practical tools that can be applied immediately. These are short trainings, to facilitate attendance, and all of them are free.
The Councilor for Business, Conxi Martínez, emphasized the importance of training at the moment: "From the City Council we work to offer tools to support the local business fabric. In addition to the lines of subsidies, bonuses and tax deferrals, training is always a strengthening strategy for organizations, as it offers its members new knowledge to incorporate into their daily lives.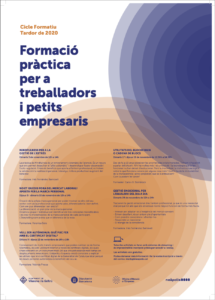 On Tuesday, November 3, from 12 to 2 pm, the first training will take place: "Mindfulness for stress management". The practice of mindfulness is a systematic training of attention, a resource that allows us to deactivate the "autopilot" and develop self-observation and self-regulation. Among the benefits it brings to the professional environment are personal satisfaction and fulfillment, leadership, productive improvement, and increased well-being.
Thursday 5 and Tuesday 10 November, also from 12 to 2 pm: "Don't stay out of the job market! commitment to personal branding ". A course to create your own personal brand in order to show yourself within your sector as a professional who adds value, differentiates and is well defined. Concepts such as differentiation, monetizable concepts or storytelling will be covered.
Monday 9 and Thursday 12, from 4 to 6 pm: "I want to be self-employed: what can I do with the digital certificate?". Knowledge of many business procedures that can be done electronically. Digital certificates have become a very useful tool that can save us unnecessary travel. The uses of the digital certificate of the Generalitat de Catalunya, IDCat, will be explained.
Tuesday 17 and Thursday 19, from 12.30 to 14.30, "Utilities of the Blockchain". Cryptocurrencies, such as bitcoin, have been around for 10 years. The protocols and technology that make it work have not stopped evolving. The blockchain, the logical infrastructure on which it works, is also used for other things. We will learn about its immutability, transparency and other properties, and how we can use it.
Finally, on Tuesday 24 November, from 12 noon to 2 pm, "Emotional management for day-to-day balance". We will deal with emotional management in the professional environment, as it is a vital necessity for everything that surrounds us in our business to work more smoothly.
To ensure compliance with the measures against Covid-19, all training will be done virtually, through streaming systems. Prior registration is essential to access the link. Information and registration via email: marbg@neapolis.cat.